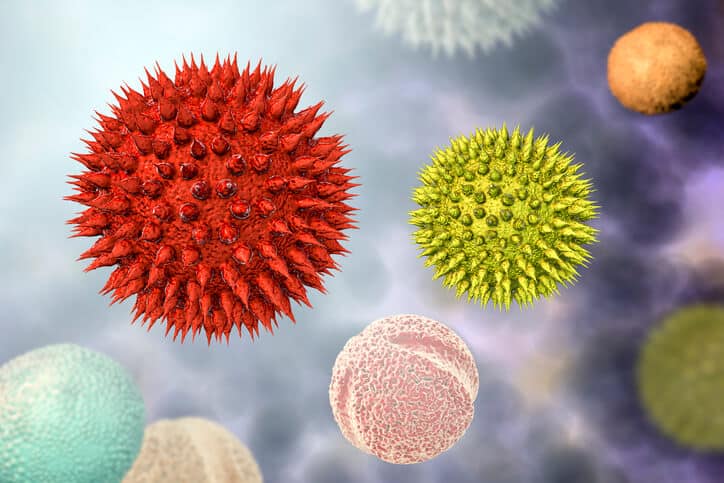 Having the freshest, cleanest indoor air possible has been on the minds of most of us over the past couple of years. With many of us staying in our homes much more often than we did in the past, it has become vitally important that the air we breathe every day at home is as healthy as it can possibly be.
In this article, we'll talk about some of the most common air contaminants, as well as the effects they can have on you and your family. We'll also talk about indoor air quality products that can help reduce, remove, and eliminate pathogens from the air in your home, helping you enjoy cleaner, fresher air all year long.
Six Types of Air Contaminants
Viruses: Each year, children, teens, and adults are sickened by many different types of viral infections, from RSV and the common cold, to the flu and norovirus. Over the past couple of years, we've seen how the coronavirus can spread quickly and easily, and cause illness in people, regardless of age or physical condition.
For more information,
Call or click here:
717-689-4151
Contact Us
Mold: Mold can grow anywhere, indoors or out, but particularly loves damp, warm areas like basements and bathrooms. Mold can be tracked in from the outdoors on your shoes and even on your pets. People who suffer from allergies and other respiratory concerns often are very sensitive to mold, and it can cause sneezing, congestion, headaches, and other symptoms.
Bacteria: Like mold, bacteria also thrive in damp, dark environments. While there is plenty of "good" bacteria that our bodies need, there are also bacteria that cause illnesses like strep throat, pneumonia, and whooping cough.
Pollen: One of the most common allergens, pollen comes from trees, flowers, and other plants. If a person is allergic to pollen, seasonal allergies can cause a great deal of misery – itchy, watery eyes, sneezing, runny nose, and other respiratory ailments.
Dust: In this circumstance, we'll use the word "dust" to identify organic particles that include shed skin (dander), soil, hair, bits of dead bugs, and dust mites – the microscopic bugs that live off pet and human dander. It's the waste produced by dust mites that generally causes dust allergies, the symptoms of which include sneezing, itchy, runny nose, nasal congestion, and potentially wheezing (mostly in asthmatics).
VOCs: According to the Environmental Protection Agency (EPA), most VOCs, or volatile organic compounds, are human made chemicals used in the production of paints, pharmaceuticals, refrigerants, and cleaning products. VOCs can cause a range of symptoms in people, including irritation to the mucous membranes, headaches, dizziness, and nausea. Constant exposure can cause ongoing physical conditions in some people.
Is there any indoor air quality product that can help keep these contaminants at bay?
Nobody wants to suffer from poor indoor air quality, and want to do what they can to protect themselves and their family from contaminants in their household air. Fortunately, there are many products on the market that can help with indoor air quality concerns, including the Air Scrubber by Aerus®.  
The Air Scrubber installs directly into your HVAC system to remove surface and airborne contaminants, including VOCs, odors, pet dander, dust, and other allergens. The system uses a proprietary technology that has been tested in independent labs and proven effective on bacteria, viruses, mold, and fungi on surfaces and in the air.
Aside from making the air in your home fresher and cleaner, the Air Scrubber also provides the additional benefit on preventing dust and build up from accumulating in your heating and cooling system. This helps your HVAC system perform better and more efficiently, and can potentially help it last longer.
Can Home Climates help me get the Air Scrubber by Aerus for my home?
If you're looking for an expert team to install the Air Scrubber by Aerus® air purification system in your building, contact us online or call 717-689-4151. We use the Air Scrubber by Aerus® in our offices to keep our employees safe and healthy, and we'll be happy to help you improve your indoor air quality too. We can also perform Indoor Air Quality testing to see how an air scrubber can improve your living space. What's more, if you've already installed the Air Scrubber, reach out to us for maintenance and an inspection to make sure your air scrubber is working correctly. We'll be glad to help!