For more information,
Call or click here:
717-689-4151
Contact Us
An air purifier can provide fresh air and peace of mind when you're muddling through allergies or looking to reduce airborne microbes in your home. We recommend the REME HALO® air purifier to our clients in Hershey, PA, Mount Joy, PA, and throughout central Pennsylvania. It can reduce all three types of indoor pollutants, and its unique technology replicates the natural processes of hydrogen-peroxide molecules cleaning air in the great outdoors.
What is the REME HALO® Air Scrubber, and how can it provide a clean, healthy living environment in your home? This guide reviews the REME HALO® and will tell you everything you need to know so that you can decide if this air purification system is right for you.
How Does the REME HALO® Air Scrubber Work?
The REME Halo® Air Scrubber uses the same process nature uses to purify the air. In our atmosphere, lightning, which holds a negative charge, activates hydrogen peroxide molecules. Once activated, the molecules clean the atmosphere, leaving behind a fresh, natural smell. Since the REME HALO® Air Scrubber harnesses this same phenomenon, some homeowners report a similar refreshing scent.
The REME HALO® is an in-duct air purifier by RGF that can be installed into the supply plenum of your air conditioning or heating system. It uses Reflective Electro Magnetic Energy (REME) to produce Hydro-Peroxide plasma, creating the same effects as lightning does in nature. The plasma travels through the air ducts and into conditioned spaces throughout the home.
Rather than merely filtering out air as it's drawn into your HVAC system, the plasma will waft throughout your home, actively removing pollutants and germs within 3 feet of their source. It also forces small particles to coagulate, making it easier for your existing filter to catch and remove pollutants from the circulating air.
The new and improved REME HALO® design also features a higher ionized hydroperoxide output to achieve a faster kill rate for microbes in the air. Ionized zinc adds a powerful surface disinfectant to the plasma. This system also drops more particulates from the air, so it improves air conditions for those with allergies and respiratory issues. It has a quick-release feature for replacing the cell and an adjustable shroud to customize your oxidized plasma output.
What Pollutants Can the Air Scrubber Remove or Reduce?
The REME HALO® is more capable than many air filter technologies on the market. While most systems can reduce only some categories of contaminants, the REME HALO® is effective against all three main types of indoor air pollutants:
Particulates: The REME HALO® air purifier is effective against pollen, mold spores, pet dander and dust. Regular air filters trap particles as they enter through an HVAC's air handler. In less effective systems, the smallest particles will bypass the filter and return to your conditioned living spaces. The REME HALO® will circulate purifying plasma throughout your home. This plasma proactively reduces even small particles by forcing them to stick together and drop. Your air filter can then more easily trap the particulates. The REME manufacturer tests show that the ionized hydrogen-peroxide improves a standard filter's efficiency at removing 

.03 micron particulates up to 73%

.

Microbes: The REME HALO® air scrubber has been tested and proven to reduce airborne and surface bacteria and viruses. These tests have studied a variety of contaminants, including MRSA, E. coli and Norwalk, and the technology kills up to 

99%

 of viruses, bacteria and mold

. Because oxidized plasma travels through the air, it reduces sneeze germs by 99% in the amount of time it takes a sneeze to spread 3 feet. The improved design and zinc ion technology are also effective at killing 99% of viruses on hard surfaces.

Gases: The REME HALO® is powerful against gases, meaning it can eliminate odors throughout your home. It removes unpleasant or musty smells from cooking, cigarette smoke, pets, diapers, perfume, trash and dirty laundry, replacing them with the fresh scent of clean air. 

Manufacturer testing has shown

 that the product is effective at reducing Volatile Organic Compounds (VOCs) such as formaldehyde in the air.
Learn if the reme halo is right for you
What Else Do You Need to Install a REME HALO® Air Scrubber?
Since the REME HALO® is an in-duct air purifier, you need a central air vent system in your home to have one installed. The vents will pump the active purification molecules throughout your home, killing 99% of germs within 3 feet of the source.


To effectively remove particulates, REME technology will work alongside your existing air filtration system. Typically, the smallest particulates move right through an air filter and eject back into a conditioned space. The oxidation molecules from the REME HALO® will cause particles to combine and drop so that your intake filter can trap them.
While not necessary, you can further improve the removal of particulates using an RGF REME+ Grounded Collector. Tests show that the REME HALO® in conjunction with a grounded collector boosts filtration performance to 93%.
Is the REME HALO® Air Scrubber Effective at Reducing COVID-19?
The REME HALO® manufacturer, RGF, is currently evaluating testing options and plans to release test results related to COVID-19 as soon as it becomes feasible to do so. While the REME HALO® air purifier has yet to be tested on COVID-19, other validated test results show a 99+% reduction of similar viruses.
COVID-19 is a type of enveloped RNA coronavirus. It's the virus type responsible for the common cold, Severe Acute Respiratory Syndrome (SARS-CoV) and Middle East Respiratory Syndrome (MERS-CoV), and RGF's testing has shown that the REME HALO® Air Scrubber is effective against similar protein-jacketed virus types.
The Chinese Government has also approved the REME HALO® for protection against SARS. While we cannot say that the REME HALO® Air Scrubber will kill the coronavirus strain that causes COVID-19, there's strong evidence that it's effective against similar strains.
How Can Cleaner Air Help?
Besides killing viruses, this air purifier can provide fresh, clean air. If your household includes someone with respiratory issues or allergies, spending more time indoors can be uncomfortable. According to the Environmental Protection Agency (EPA), some indoor air pollutants can be found in two to five times higher concentrations than they appear outside.


Airborne irritants can worsen asthma, allergies and respiratory illnesses. Furthermore, breathing in harsh chemicals from surface disinfectants — cleaning products the CDC recommends to stop the spread of COVID-19 — can also worsen respiratory issues. With the REME HALO® Air Scrubber, you can reduce these pollutants, providing relief. The technology even disinfects hard surfaces. While the air scrubber shouldn't replace other disinfectants, it can help keep your home germ-free.
What Are the Benefits of REME HALO® Air Scrubbers?
The REME HALO® Air Scrubber can reduce all three categories of indoor air pollutants. With one small addition to your HVAC system, you can purify your house and keep your family safer. Understanding the advantages of the REME HALO® can help you weigh the pros and cons of installing one in your home. Benefits include:
Whole-home air purification: Many air purifiers are either portable indoor units that purify only one room or filters that clean air as it's drawn into the existing HVAC system. The REME HALO® is different. It dispenses ionized hydroperoxide plasma throughout the home through the structure's air duct system. This powerful air scrubber can purify and sanitize every conditioned room throughout your house. Plus, new 

ionized zinc kills 99% of viruses

 on surfaces, making the REME system a truly whole-home solution.

Ease of use: Several features make the REME HALO® system user-friendly. It has quick-release technology that will allow you to replace the cell yourself without any tools or professional help. Of course, when Home Climates installs your system, you can always call on us for hassle-free service and maintenance. The cells are also long-lasting, rated to purify your air for 

18,000 to 25,000 hours

. The system integrates with an HVAC system and has a silent operation, so it won't take up any living space or cause noise. It also has an adjustable shroud around the cell, so you can change the plasma output.

Health and safety: The REME HALO® kills up to 99% of viruses, bacteria and mold. It works on H1N1, norovirus, MRSA, E. coli, mold, fungus and other microbes. It's approved by U.S. and international hospitals to prevent the spread of infectious diseases and by the USDA, FDA and FSIS to prevent food processing contamination.
Freedom from harsh chemicals: The REME HALO® purifies air with oxidation purifiers. These are the same molecules that clean the air after lightning forms. In other words, it's a sanitizing solution that won't harm the air quality in your home.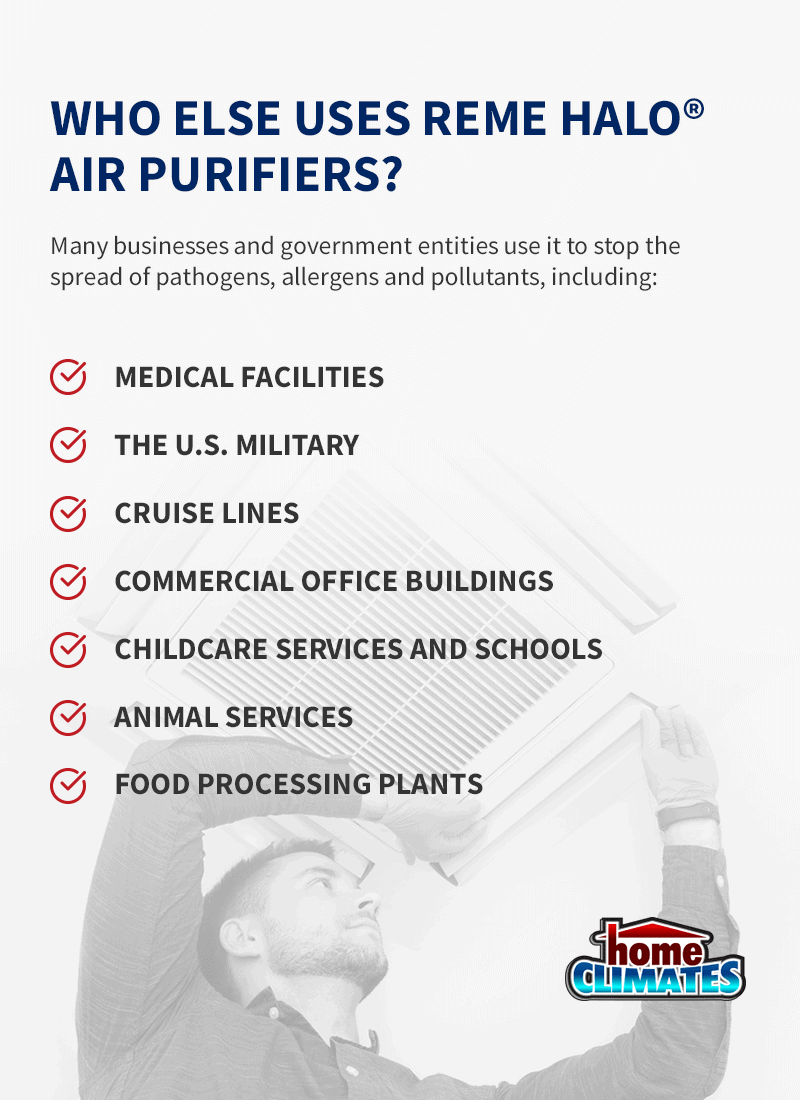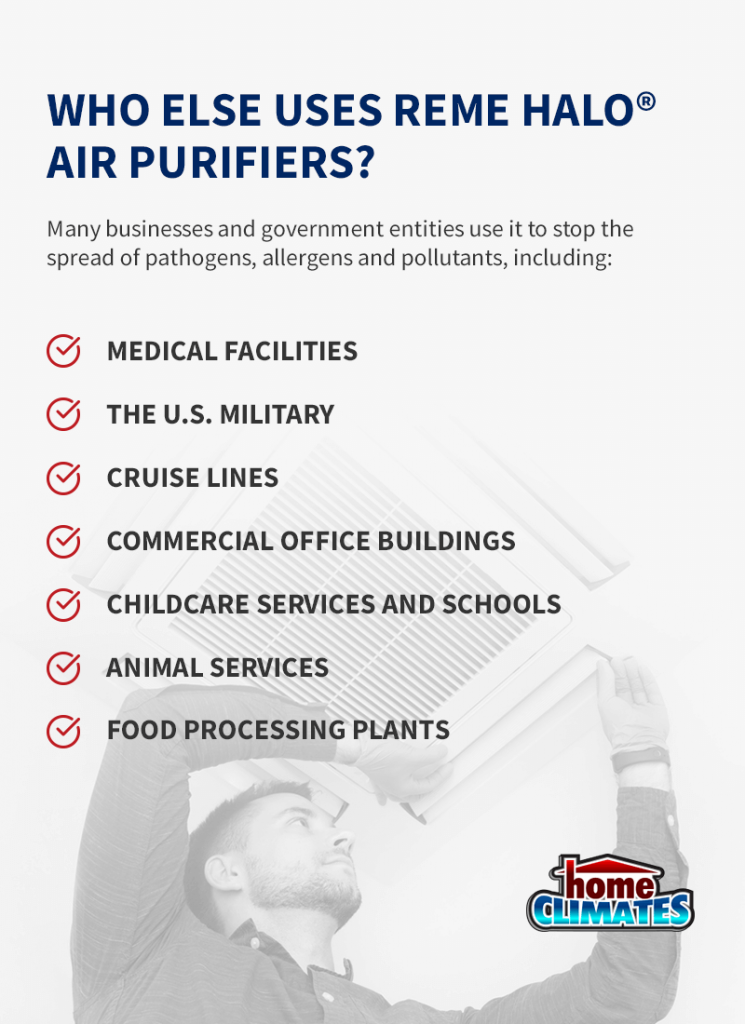 Who Else Uses REME HALO® Air Purifiers?
At Home Climates, we specialize in REME HALO® air purifier installation in homes like yours in Hershey, PA, York, PA, and throughout the rest of the region. One of the main users of the REME HALO® in-duct system is homeowners. As long as you have an HVAC system, the technology will fit your existing ducts and begin cleaning your air. That said, these systems are also used in a variety of industrial and commercial settings.
The fact that so many different industries rely on the REME HALO® Air Scrubber to provide clean air is a testament to its effectiveness. Many businesses and government entities use it to stop the spread of pathogens, allergens and pollutants, including:
Medical facilities: Hospitals, assisted living centers and doctor's offices care for infected individuals and need to take precautions to stop the spread of diseases to other patients. Both U.S. and international hospitals have the approval to use REME HALO® to fight against infectious diseases. The system has been shown to provide a 

99+% reduction in Staph (MRSA)

.

The U.S. military: Along with

 its use in civilian hospitals, the REME HALO® is also approved to reduce mold in U.S. military field hospitals

.

Cruise lines: 

It's no secret that cruises bring many people together in closed quarters. 

With higher chances to spread diseases, many cruise lines install the REME HALO® in air ducts to take measures against the Norwalk virus

.

Commercial office buildings: Poor air quality and the spread of diseases can lead to discomfort and more sick days for employees. It's also one of the root 

causes of sick building syndrome

. Many office buildings can help treat sick building syndrome and improve air quality by installing the REME HALO® system.

Childcare services and schools: Anyone who has kids knows how often they're exposed to germs and dirt in daycare centers, preschools and elementary schools. The average American child gets 

six to eight respiratory infections

 each year. Kids have less mature immune systems and unsanitary habits, and their close contact in schools and childcare facilities increases the spread of diseases. That's why many schools turn to air purifiers. One major U.S. city school reported a 

20% reduction in absenteeism

 with the REME HALO® Air Scrubber.

Animal services: Pet dander is made of small particles of skin and saliva shed by cats and dogs. These particles become airborne and can 

cause respiratory symptoms

 for people with allergies or asthma, so animal services facilities often adopt measures to make the air cleaner for visitors. Many veterinary clinics, animal hospitals and kennels use the REME HALO® to reduce pet-related allergens. The system also creates a more sanitary environment for medical procedures.

Food processing plants: 

Food processing plants have 

high standards for air quality control

. Food allergens and microbes can spoil food products. 

Airborne bacteria and mold spores can embed themselves in food and cause food waste or spread diseases to consumers

. The USDA, FDA and FSIS have all approved the REME HALO® for use in food processing. 

The system is 

99+% effective at inactivating

 E. coli, salmonella and Listeria monocytogenes, common bacterial contaminants that cause foodborne illnesses

.
REME HALO® Air Scrubber Installations in Central PA
If you're looking for an expert team to install the REME HALO® air purification system in your building, contact us online or call 717-689-4151. We use the REME HALO® in our offices to keep our employees safe and healthy, and we'll be happy to help you improve your indoor air quality too. We're a full-service HVAC installation and repair company, and we service all brands of equipment. We can also perform Indoor Air Quality testing to see how an air scrubber can improve your living space.
We pride ourselves on providing outstanding service at a fair price. We don't up-charge for emergency appointments, even after hours or on holidays. We'll text you confirmations before your appointment and follow up with you after service. We're proud to assist you in maintaining a clean, healthy home in every way we can.
If you've already installed the REME HALO® air purifier, reach out to us for maintenance and an inspection to make sure your air scrubber and your entire HVAC system is working correctly. We install and service HVAC systems and air purifiers in Hershey, PA, and throughout the central Pennsylvania area, including Hershey, Mount Joy, York and Hummelstown.
REME HALO® Warranty
We're confident in our work and the systems we recommend, which is why we offer an impressive warranty on all services we provide. We offer a 10-year warranty on the REME HALO® and all other parts we supply for any HVAC installation. We also guarantee our work with a five-year labor warranty.
If you choose us to perform a tune-up on your REME HALO® or the rest of your HVAC system, we can offer you a 50%-off guarantee on repairs. Our warranty on services and parts is just one of the reasons so many people in central PA choose Home Climates for their air quality control needs.