Both REME LED air purifiers and REME HALO systems help purify indoor air, which is important since the interiors of homes can host mold, bacteria, dust and other allergens. The REME HALO air purifier performs this task by using dual ionizers while the REME LED uses UV light.
How Do the Systems Work?

For more information,
Call or click here:
717-689-4151
Contact Us
The REME HALO air purifier can kill up to 99% of mold, bacteria and even viruses. The system is designed to improve the air in your entire home by working with your current HVAC system. The REME HALO system works through a dual ionization process.
The REME LED air purifier is placed in the ducts of your HVAC system, where it uses ions and UV light to attract and then destroy bacteria, mold, viruses and more on the surfaces and in the air of your home. This air purifying system works all over your house and is mercury-free.
Learn more About Air quality improvement 
Both REME LED and REME HALO systems use ions to remove pollutants, bacteria and other particles from your home. Ionic air purifiers don't wait for air to pass through the system. Instead, the REME HALO emits Hydro-Peroxide plasma from your HVAC system vents, allowing it to float through the air. These types of particles float in the air all over the world, including in natural settings.
When the charged plasma encounters dust, bacteria, mold spores, or any other allergens or particles in your home, it binds to them. This process makes the particles large enough for your HEPA filter and filtration system to remove. In fact, the REME LED and REME HALO kill microbial contaminants on surfaces as well as in the air, even eliminating viruses and bacteria.
Both the REME LED and REME HALO are whole-home air purifiers. Instead of portable systems which are limited in what they can clean, in-duct systems by REME purify air and surfaces throughout your home. They can also be more energy-efficient than many portable systems and may require less maintenance.


Benefits of Each HALO Air Purifier
The REME HALO has several benefits:
It helps you target bacteria, viruses, mold, dust and other undesirable particles.
It is not a passive air purifier — it actively removes particles from the air and surfaces.
It works with your current HVAC system.
It can kill up to 99% of viruses, bacteria and mold in the air, and the new zinc ion kills up to 99% of viruses on surfaces in your home.
One system protects your entire home's air.
This purifier can kill up to 99% of sneeze germs by the time your sneeze reaches 3 feet, reducing your risk of some colds.
The HALO makes no noise and does not require any additional space.
You can customize the oxidation plasma output.
The advantages of the REME LED include:
An LED cell module that lasts up to two and a half times longer than comparable vapor UV lamps.
A noticeable reduction in odors, particulates, VOCs, smoke, mold, viruses, bacteria and more.
Purifying both the air and surfaces of mold, bacterial, microbial matter and viruses.
A washable catalyst — the first in the industry — making it easy to clean even if you smoke in the home.
A limited warranty of seven years.
Call Us Today To Learn more! 717-689-4151
Which REME HALO System Is Right for Your Home or Business?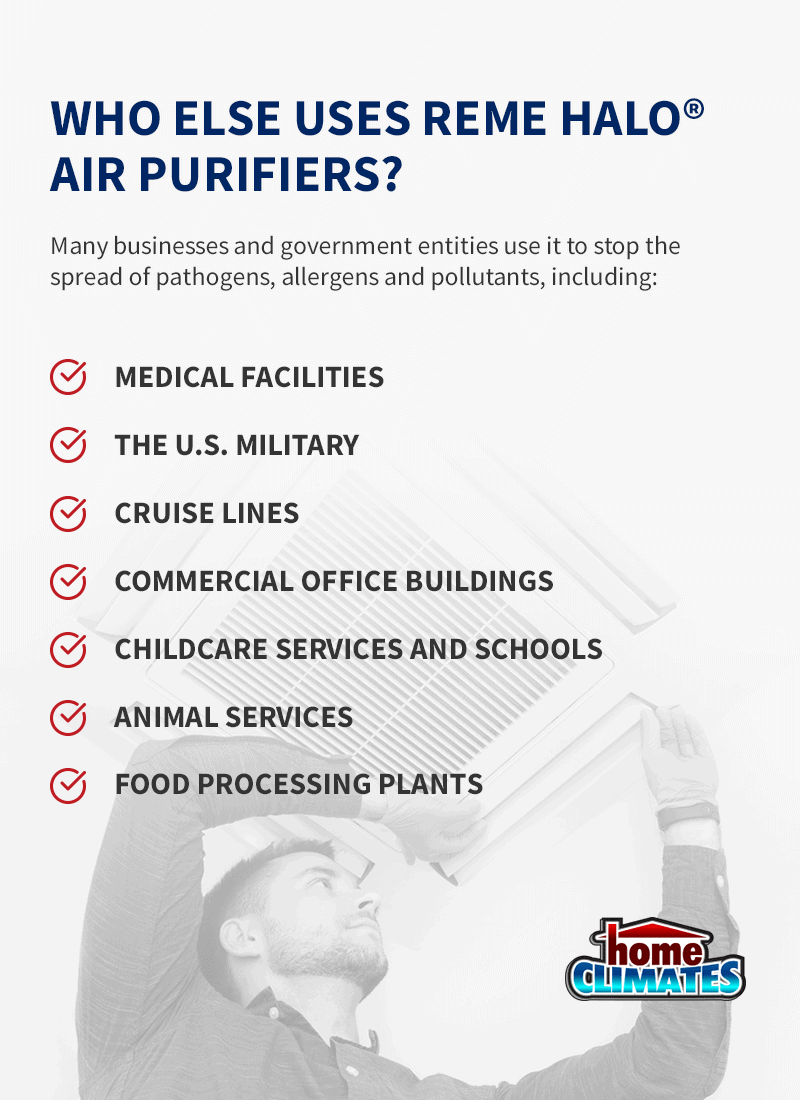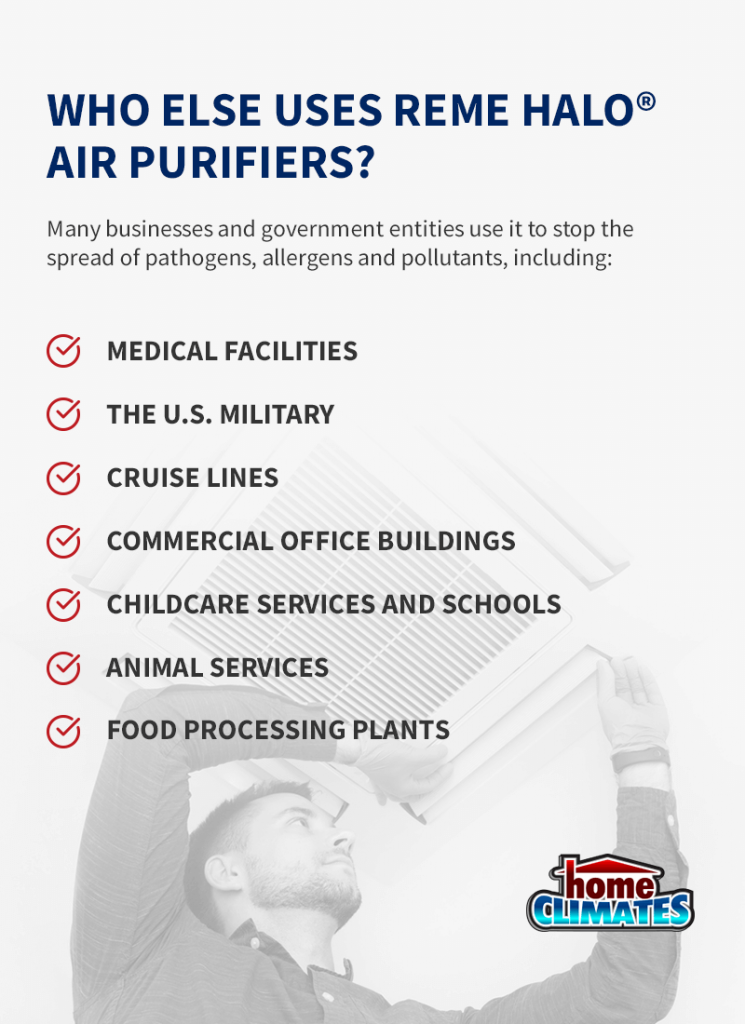 The right system will depend on your needs. If you have a business such as a cigar bar or any environment subject to frequent smoking, the REME LED can help reduce odors. If you work in a health care setting and are primarily concerned about eliminating viruses and bacteria, the REME HALO is effective against microbials, allergens and particulates both in the air and on surfaces.
The REME HALO is already used in a variety of commercial applications, including restaurants, schools and other high-traffic facilities. It is approved by the U.S. Military and used in field hospitals to reduce mold. It has also been approved by the Chinese government for use in protection against SARS and is approved by U.S. and international hospitals as a useful tool in reducing the risk of infectious diseases such as MRSA.
Cruise ship companies have used REME HALO to reduce the risk of Norwalk virus outbreaks on ships, and both filtration systems are approved for use in food processing plants by the U.S. Food and Drug Administration and other government bodies.
Both the REME LED and REME HALO systems work for commercial and residential applications. Both offer powerful air filtration options. REME LED is ideal when you have limited space and want quiet operation. It may also be the right system if you want low maintenance requirements. With its long-lasting cell and energy-efficient programming that automatically turns on and off along with your HVAC system, a REME LED installation lets you just sit back and enjoy cleaner air.
Contact Home Climates for REME HALO or LED Installation in Central PA
If you need help evaluating the REME HALO versus the REME LED for a viable home air quality improvement solution, contact Home Climates. Operating in central Pennsylvania, our team is the leader in HVAC, air conditioning and air purifier systems. Our professionals will discuss your air purifying needs and options to ensure you get the right fit.

The professional and honest team at Home Climates can help you find peace of mind when it comes to indoor air quality. Whether you're concerned about odors, allergens, dust, flu season or any other air quality concerns, an in-duct whole-home solution from Home Climates can help you enjoy cleaner air and surfaces with minimal disruption to your daily life. You may not even notice the new system running — you'll just find yourself breathing more easily.
Home Climates offers professional installation of industry-leading air purifiers, including the REME LED and REME HALO systems. In fact, some of our technicians have these systems installed in their own homes and can provide an inside opinion on whether these purifiers may be right for you. If you'd like to breathe easy in central Pennsylvania, contact us to schedule an appointment.