Nest Thermostat Installations in Elizabethtown & Central PA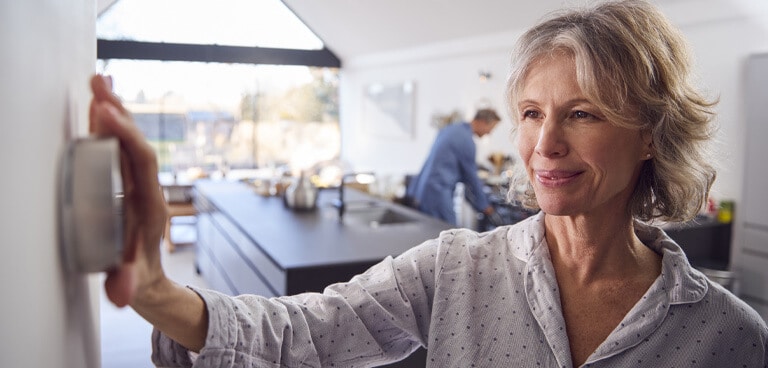 Home Climates is your exclusive supplier of Nest thermostats in Elizabethtown, Lancaster, Harrisburg and throughout central PA! Known as the "intelligent thermostat," Nest products take home temperature control to a whole new level. At Home Climates, we offer expert installation and after-sale support for Nest products. Contact us today to learn more!
Why Nest?
With the introduction of their smart thermostat, the team at Nest took a product that's remained relatively the same for years and updated it for the 21st century. An intelligent Nest thermostat learns your heating and cooling preferences, tracks outside weather conditions and adapts accordingly to keep your home at your desired temperature all day long. Nest thermostats are easy to program and can save you between 20-35% on your energy costs per year.
Best of all, Nest products allow you to control your home heating and cooling over Wi-Fi – for convenient access from a laptop, smart phone or tablet. Nest products also boast a stylish modern appearance to match their sophisticated hardware. A thermostat for the iPhone generation, Nest boasts a simple, sophisticated design that blends in with any style of decor, from classic to contemporary.


NEST THERMOSTATS: BENEFITS AND SAVINGS AT-A-GLANCE
Nest thermostats are easy to program and will learn your heating/cooling preferences automatically. If you're still heating your home with an older technology, take a leap into the 21st century. Here are a few of the main ways a Nest installation can benefit central PA homeowners:
Convenient operation from any smartphone — This means you never have to take time out of your day or interrupt what you're doing to achieve the perfect level of home comfort.
More precise control over your heating and cooling — You also have the ability to make adjustments from your phone, which can reduce your utility bills and help you conserve energy.
A clear display that shows when you're using less energy — Look for the leaf on the Nest display to know that you're saving money.
Monthly energy reports and customized smart alerts — These reports and alerts take the potential for energy savings even further.
An emergency warning when temperatures change suddenly — If your pipes burst or your furnace flares up, the Nest helps you take action faster and limit damage to your home.
Through ongoing savings on your monthly utility bill, the technology behind the Nest thermostat can quickly pay for the cost of upgrading. To receive a quote for a Nest installation in Elizabethtown, Lancaster, Harrisburg, or elsewhere in the central PA region, contact Home Climates today.
Installation and Product Support for Nest Thermostats
When you purchase a Nest thermostat from Home Climates, after we've completed the installation our technicians will walk you through the full range of features of your new thermostat.
In the rare event you encounter a problem with your Nest thermostat, we offer full warranty support, 24/7. For all your HVAC service needs, you can trust Home Climates for fair pricing and convenient service!
Nest and Home Climates: Your Team for Efficient Home Temperature Control
Upgrading your home heating system with a Nest thermostat is the smart choice for anyone concerned about efficient energy usage. At Home Climates, we recognize the need for heating and cooling solutions that match your lifestyle and your energy usage. That's why we've partnered with Nest to offer their next-generation thermostat to customers throughout central PA.