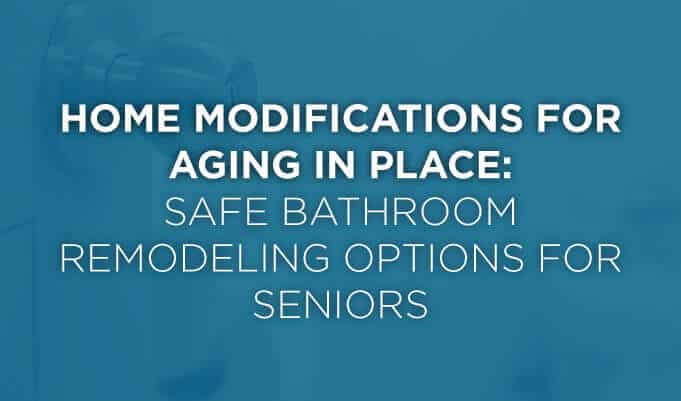 Aging in place provides benefits to seniors, but also to their families. The phrase, "aging in place," refers to seniors who can meet their needs in the privacy and comfort of their space — whether that space is their own home, a family member's home, or a new home of their own — while maintaining or improving their quality of life. With 90% of seniors wanting to stay in their homes as they age, it's clear that the desire is there, and we can see why.
Reasons why a senior might prefer to stay in their own home
For more information,
Call or click here:
717-689-4151
Contact Us
1. Being in Your Own Space Means Independence and Comfort.
Aging in place means seniors must be able to do everything on their own. It means that with the right amount of planning, their space can be a safe, familiar place for them to live on their own, or with in-home care as needed. They're able to maintain relationships with neighbors and other friends — relationships that are crucial to their emotional and mental health as they continue to age.
2. Your Space Feels Safe — and It Is.
Navigating a home instead of a room in an assisted living facility can seem like a scary challenge for seniors, but the reality is that their house or the house of a close relative is familiar to them. As their senses naturally begin to dull with age, having familiar surroundings is comforting and also makes it easier for them to navigate than moving into a new place. Their home environment is also better for their health, assuming they have the in-home care their health demands. Regardless of which assisted living or nursing home facility you would choose, the reality is that there are a lot of people there that need care — staff members are often spread thin and despite best attempts to keep everything clean, more people means more germs. More germs are not healthy for aging immune systems as they begin to grow weaker.
3. Aging in Place Provides Flexibility.
When you live in your own home, you can create your schedule — eat when you're hungry, visit with family and friends for as long as you want to, etc. Seniors don't have to conform to a specific schedule of dining hours or visiting hours. Instead, seniors who age in place have the flexibility that they wouldn't get if they lived in a nursing home.
4. In-Home Care Can Save Money.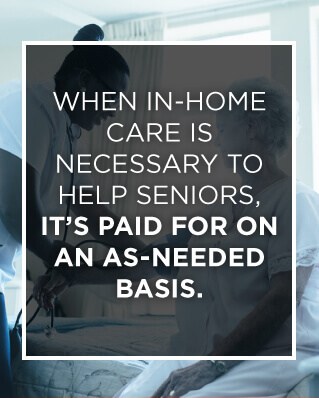 In many cases, aging in place means at home. At this point in their lives, many seniors don't have a mortgage to pay — they own their homes. So investing in some remodeling projects to make the home ready for aging in place can be much more affordable than paying for nursing home care. Sometimes, the plan is to sell the home to pay for care/ The problem is, these homes are often outdated and can be hard to sell, making the financial burden worse. A remodel can provide a better experience for your loved one, but can also prove to be a better financial decision. When in-home care is necessary to help seniors, it's paid for on an as-needed basis, whereas in a nursing home, you have to pay for care 24/7, which is significantly more expensive.
5. Aging in Place Keeps Family Close.
Whether you're loved one wants to stay in his or her own home, plans to move into your home, or is going to a new space that has a more senior-friendly design, it keeps families close. You don't have to move your loved one to a new area, farther from you and the rest of their family.
How to Ensure Your Home Can Support Aging in Place
Realizing that you want to give your loved one the opportunity to age in place is only the first step. While the desire to age in the comfort of your own home is strong, steps often need to be taken to ensure that the home can support an aging senior. Those steps often come in the form of home modifications — 70% of seniors make modifications to their homes for safety reasons. Home modifications come in all shapes and sizes, from removing the steps from the entryway of the home to adding a stair lift or elevator to access the second floor easily. Bathroom modifications are some of the most popular changes made — 79% of the housing features that seniors find to be most important are in the bathroom.
Aging-in-Place Bathroom Remodeling Checklist
What is it about the bathroom that makes it one of the most popular rooms to remodel for aging in place? There's a lot to navigate. The toilet, shower and/or tub and sink are all obstacles — add water to the mix, and you have a recipe for disaster. But it's not a room that can be avoided, since keeping up with personal hygiene is important, and the last thing you want is for that to become a hassle. But there are several things you can do to make this room safer and more comfortable. That's why we've gathered some of our favorite tips and design considerations in this aging-in-place bathroom remodeling checklist, so you know where to start with your senior bathroom makeover.
Shower/Tub
Aging-in-place shower design is a great place to start. The overwhelming majority of showers and tubs are not senior-friendly, so this is an area of the bathroom that can make a significant difference for an older person.
Here are some of our favorite features of an aging-in-place shower design:
Walk-in tubs take away the need to step over the edge and into the tub. Instead, there's a door in the side of the tub that can be opened, reducing that step to a fraction of what it is in a standard tub. Once you step in, you sit down, close the door and fill up the tub. Yes, this means you have to stay in the tub while it fills and empties, but for a senior who enjoys baths, that's a small price to pay compared to the safety it offers.
Built-in shower seats provide a welcome place to rest. Standing for an extended amount of time in addition to balancing as they wash can be challenging. A built-in shower seat provides a place for them to sit and take a break, or to use as they wash. Some seats can be bought separately, but built-in seats provide the safest option, as mobile models could provide more of a fall risk without a sturdy foundation.
Curbless showers are another great option to include in a bathroom design for elderly and disabled people. Think of these showers as just an extension of the bathroom — part of the room is simply sectioned off for use as a shower. You walk straight into a curbless shower, without any tricky steps or sudden change in flooring elevation.

Glass shower doors provide more stability than shower curtains, making them a great option for you aging-in-place shower design. While they do provide additional stability for light weight leaning against them, they shouldn't be used as a substitute for grab bars on your shower walls. As a bonus, they're also low maintenance.
Entryways
Believe it or not, the entryway to your bathroom can make a positive or negative impact. If the door opens into the bathroom, as most do, that takes up additional space. If it doesn't unlock from the outside, it could be a hassle for a senior who struggles to unlock the door inside. Even using handles instead of door knobs can make things easier for seniors.
Here are two things you can do to help the entryway in your senior bathroom makeover:
Pocket doors eliminate the issue of having a door take up extra space. These doors slide into the wall, saving on space. When you're remodeling a bathroom for a senior, space is important and adding pocket doors are an easy way to make room.
Widened doors are another way to capitalize on space. While you may not yet need room for a wheelchair, it's ideal to widen doorways to 36 inches so that there is plenty of room to navigate with a walker. You never know what the future will bring when it comes to mobility, so it's best to be prepared for it, especially if you've already decided to remodel the bathroom.
Floors
Bathroom floors are usually made of tile or another smooth surface. While these surfaces are great for moisture and make cleaning easy, they can also be slippery, which is especially problematic for an elderly person who is having trouble with mobility.
Consider one of these options to reduce the fall risk in your loved one's bathroom:
Bath mats make a great immediate solution, and they also work well if you are unable to replace the floor in the bathroom completely. Consider placing them in areas that water is likely to splash, like outside the tub and below the sink. It's important to remember bath mats can also just be another obstacle that gets in the way — they key is choosing the right type of bath mat. Make sure the bath mat has a rubber, slip-resistant back. Better yet, fasten it to the floor with anti-clip rug tape. High-pile rugs can be tough to navigate with a walker, regardless of how well they're attached to the floor. So make sure you look for a low-pile option.
Rubber flooring is an ideal solution for a bathroom remodel for seniors. It doesn't get slippery when it gets wet, it's easy to maintain and it provides more of a cushion in case of a fall. Unfortunately, it's not as aesthetically pleasing, and it comes at a much higher cost. Non-slip vinyl is another great choice if rubber flooring isn't an option.
Toilets
When it comes to toilet repairs, for most of our lives it's one-size-fits-all. We sit on higher toilets and lower toilets and may never really notice a significant difference. But for elders who may struggle with sitting and standing up, sitting on the toilet can become a challenge.
To ensure the toilet doesn't provide an unnecessary challenge, consider the following in your senior bathroom makeover:
The Height of your toilet can make a big difference for an elderly person who has trouble sitting or standing. There isn't one height that works for everyone — it all depends on a person's height and his or her abilities. If replacing the toilet can't be a part of your remodel, there are toilet seat extensions you can purchase. Either way, make sure you consider raising the height of the toilet.
Grab bars around the toilet can provide additional leverage to elderly people as they sit and stand. Make sure they're bolted into the walls and that the wall can handle 250-330 pounds. Grab bars may require bracing in the walls, but the support these bars provide is an excellent feature for seniors.
Sinks
The sink probably isn't the first thing that comes to mind when you consider a bathroom remodel for seniors, but there are some aspects of a sink that can be difficult for your loved one.
When it comes to sink repair, consider making the following improvements:
Faucets can be painful to operate for an elderly person with arthritis. Lever faucets are easier for them to grasp and foot-operated faucets negate the need to use their hands altogether. Think about replacing the faucet in your bathroom renovation.

The Height of the sink and counter is something that's particularly important for those in a wheelchair. If your loved one is in the wheelchair, or you want to be prepared in case a wheelchair is necessary for mobility later in life, consider having the sink attached to the wall and lowering the counter height.
Countertops can also be improved for seniors in two ways — color and edges. By adding a contrasting color to the edges of your countertops, they become more visible to a loved one who may be suffering from poor vision. Ensuring the counter edges are round, not sharp, can be a big help when seniors accidentally bump them as they navigate the bathroom.
If you plan your bathroom remodel carefully, you can make the bathroom a safe and comfortable space that's easy for seniors to navigate. Eliminating the sides of tubs, adding wider entryways, making floors skid-resistant, adjusting toilet heights and replacing sink faucets are just a few of the things you can do to improve your bathroom.
Choose Home Climates for Your Bathroom Plumbing in the Surrounding Lancaster, PA Area
At Home Climates, we know that remodeling a bathroom can be difficult since it's such an integral part of your living space. Plumbing is a crucial piece to completing your aging in place bathroom remodel and we have the skilled technicians to complete the job. From showers to toilets, we can replace and install all of your new bathroom fixtures.
If you'd like to learn more about our bathroom plumbing services, and you live in Elizabethtown, Hershey, Lancaster, Mount Joy, Harrisburg or surrounding areas, contact Home Climates for an in-home consultation and recommendations at 717-689-5655.