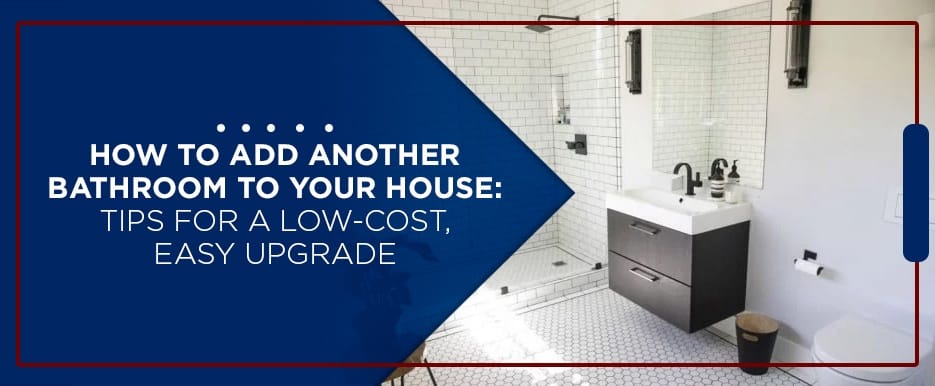 There are few who will question the benefits to adding another bathroom to your home. Unless you live by yourself, it can seem like there's always someone in the bathroom when you need it. If you're married with children, you basically need to create a schedule and reserve a time slot to use the bathroom, and your needs don't always conform to the schedule.
We can help you
add or renovate a bathroom.
Call or click here:
717-689-4151
Contact Us
Even when you do get in there, it can be difficult to navigate the various bottles, solutions and toiletries that fill up a bathroom fast when you've only got one or two in the home. So, it's obvious you need another bathroom. The good news is you can add more, even if your available space and capital for home improvements are limited. The question is, how to add a bathroom?
Central PA fixture installation Services
The Value of a New Bathroom
Before you start making building plans, you probably want to know how much value does a bathroom add to my home? In terms of financial value, that answer is difficult to pin down, but you can be sure that many potential buyers will prioritize finding a home with a minimum of two full baths and possibly more. One study found that adding a bathroom increased the home's sale price by 8.7%, which is more than twice the increase you would see if you added a bedroom.
If you're not looking to sell any time soon, then the value you gain is added functionality. The National Association of Realtors found that over half of homeowners who added a new bathroom to their homes wanted to be home more and had an increased sense of enjoyment since the project was completed. If you've ever had to wait to use the toilet or take a shower, you've likely daydreamed about how nice it would be to have another bathroom in your home.
The Cost to Add Another Bathroom
Many people don't even consider adding a bathroom because they are sure bathroom remodeling is too expensive. Finding the space and building it out, along with adding plumbing, makes the cost to add a bathroom seem prohibitively expensive. It doesn't have to be. The key is to find the right approach so the benefit of an extra bathroom outweighs the cost. Remember, adding a bathroom can significantly increase your home's value, so with the right approach to bathroom remodeling, the ROI can be strongly in your favor.
How much does it actually cost to add a bathroom to your house? Not considering the cost you'll recoup, the upfront investment can run anywhere from $3,000 if you already have a space in your home to install the bathroom to $25,000 if you have to add on to the footprint of your home.
You can easily spend more than this if you're looking to install a large, luxurious bathroom, or you can save if you work with your existing layout and opt for simple fixtures, so make sure you get a quote that takes your project specifications into account.
Does adding a bathroom to a house increase taxes? The answer depends on a few factors. If your project requires a permit, then a tax assessor may notice the additional value you're adding to your home. If you add on to the square footage of your house, you can definitely expect an increase in taxes. Even if you end up paying a little bit more in taxes, the added value to your home will far outweigh this small expense.
Where to Add Your New Bathroom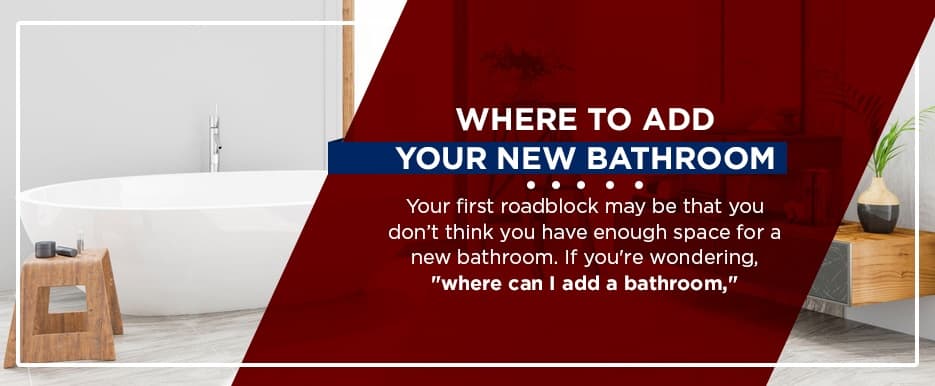 Your first roadblock may be that you don't think you have enough space for a new bathroom. If you're wondering, "where can I add a bathroom," it may surprise you to learn that you can build a half bath in just 3-by-5 feet of space! With 25 square feet, you can fairly comfortably fit a sink, toilet and shower, and with just a little more space, you can have yourself a full bathroom with a full shower and tub.
Where will you put your new bathroom? As long as you have a little available space, access to sufficient electrical outlets, ventilation and adequate sound insulation, you can sneak a new bathroom almost anywhere in your home. It may feel like you don't have any available space to spare, but there's a good chance you just don't know where to look. Secret extra space is scattered through many homes, in areas such as:
Hallways: If your hallway extends all the way to the end of your house, possibly terminating in a window with no rooms on either side, you have the perfect location for a new bathroom.
Closets: Do you really need all that closet space? A large walk-in closet can often be converted into a new bathroom with just a few minor adjustments. Do you have any adjoining closets? Knock out the wall between them and you should have just enough room for a half bath.
Bedrooms: If you've got a large enough master bedroom, you may have a chunk of space you're not using. Partition off that space for your new bathroom.
Existing bathrooms: You may be much better served with two small bathrooms than one huge one. Add the necessary fixtures to each side and cut that bathroom in half!
Plumbing Tips for Adding a Bathroom
When you're adding a new bathroom, consider these tips to help make your project a success:
Know what you want your new bathroom to look like before you start. Check out Pinterest photos and home improvement sites online for ideas.
Place fixtures strategically. If you can place your new fixtures close to existing water and waste lines, you can keep construction costs and plumbing bills down.
If you're installing a door in your new bathroom, install one that swings out or a sliding door. This will maximize the available space for fixtures and make it easier for guests to navigate inside your new bathroom.
Keep an eye out for products that will make the process easier, either because they are more affordable, easy to install or both. For example, the Qwik Jon® Ultima Sewage System by Zoeller is designed so you can put a toilet just about anywhere, which is perfect for your new bathroom project. However, adding a toilet to an existing bathroom in an old house will be a huge cost saver as it will drastically cut installation time.
Tips for Revamping a Current Bathroom
Whether you want to improve the value of your home or improve the way you feel about your bathroom, you can also consider giving an existing bathroom a facelift. This is a more affordable option than adding a whole new bathroom and can still achieve some great results. Consider these tips to help you revamp a current bathroom:
An affordable way to give your bath, shower or sink a new look is to replace the faucets with ones that have modern appeal.
Painting is a tried-and-true means of giving any room a fresh new look. You may also want to consider an accent wall with a fun wallpaper, tile or wood planking you love.
No one wants a dimly lit bathroom, especially at the vanity where you likely spend time getting ready. You also don't want to have outdated light fixtures. If you're dissatisfied with your current light fixtures, replacing them with bright ones you love is a great move.
The mirror over your vanity may need an update if it's a plain, builder-grade mirror. Instead of replacing the whole mirror, consider adding a frame to give the mirror a more stylish look.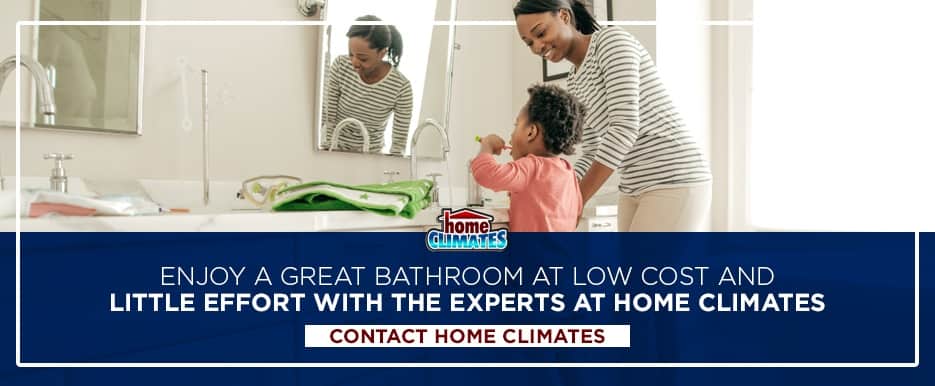 How Long Does a Bathroom Renovation Take?
The time it takes to complete your bathroom reno depends on how extensive the job is. A cosmetic renovation of an existing bathroom can be completed pretty quickly. A more comprehensive renovation typically takes around four and a half to nine weeks. If you add on to the footprint of your home to add a bathroom, then you can expect the job to take quite a bit longer.
Issues to Consider When Installing a Bathroom Yourself
If you are designing or installing your own new bathroom, there are a few points you will want to keep in mind. First, the bathroom must have ventilation. When choosing your space, try to find one with a window already built-in. If you can't, you will need to put in a duct fan or a new window of some kind.
Make sure your floor can handle the weight of your new bathroom, as bathroom fixtures can weigh up to 20 pounds per square foot. Find out what kind of capacity your floor joists are equipped to handle.
Do the math. The main reason to do bathroom remodeling yourself rather than call a professional is economic. Between the tools, equipment and supplies you will need to purchase and the amount of time you need to dedicate to the project, you might not actually save that much money. It can be a good idea to get a professional estimate first before even considering taking on bathroom remodeling on your own.
Costs are another factor to consider. While a bathroom can be added very affordable by taking into consideration your current bathroom situation, the average cost to add a bathroom in 2019 is around $7,600. This can be as low as $2,500 if updating an existing space and keeping the upgrades simple, or as high as $25,000 if adding an entire addition onto your home to make room for the new bathroom. Regardless, there are ways to cut costs while still building your dream bathroom. Ask your plumber or contractor about the most cost-effective ways to incorporate your new bathroom.
Central PA fixture installation Services
Think Home Climates for Bathroom Plumbing
Plumbing is an integral part of a bathroom remodels. Home Climates offers bathroom plumbing services from shower and toilet installations to leak detection and repair. You could do it yourself, but when you have access to professionals who will do the job correctly, quickly and at a reasonable price with over-the-top service, why should you? If you're interested in making your life easier by adding a half-bath or a full bathroom to your home in Lancaster, Harrisburg, Elizabethtown, Lititz, Mount Joy or Hershey, Pennsylvania, contact Home Climates. We'll give you guidance on all of your plumbing needs. We know plumbing disasters happen at the worst times, so remember we offer emergency service for no extra fee.
Interested in Bathroom Plumbing Service?

Home Climates Review Scored as of 9/22/22