Save up to $500 * on Water Heaters
No hot water? Let us help you find which water heater is right for you. And if you have natural gas service, our efficient tankless systems provide an endless supply of hot water.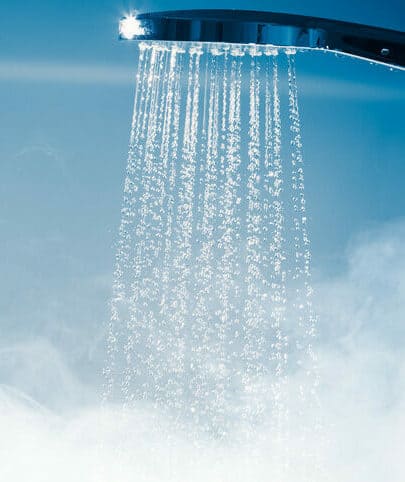 Disclaimer: *Savings on select systems only. Restrictions may apply. See dealer for details.

Understanding the Differences Between Gas, Electric and Tankless Water Heaters
Conscientious homeowners face countless important decisions when deciding what's best for their families and what makes sense for their budgets. One debate that has been going on for ages is whether to choose between gas or electric water heaters — and whether or not it's worth it to try a tankless water heater system.
While you'll find advocates of each scenario based on past experience, relevant statistics and personal preferences, we're here to help break down the basics and expose the options that make the most sense for your home.
Learn About our water heater services
WHAT'S THE DIFFERENCE BETWEEN GAS AND ELECTRIC WATER HEATERS?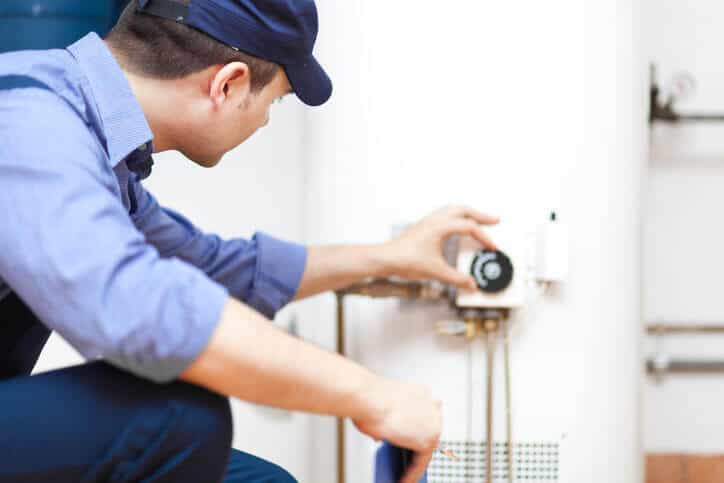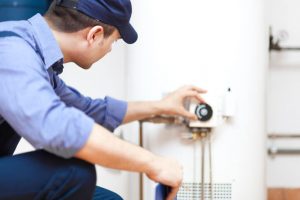 If you believe the process is never as important as the end result, it might be time to take a closer look at the differences between gas and electric water heaters. To be sure, both units will produce hot water coming out of the taps in your home. But after that, there are many details that set the two systems apart. The following are just a few important facts to consider when comparing water heaters powered by gas and electric:
Electric water heaters run on domestic power produced by a variety of methods ranging from coal and natural gas to nuclear and hydroelectric. Gas water heaters run exclusively on natural gas.
Electric water heaters and gas water heaters typically have about the same life expectancy rate in the neighborhood of 13 years. However, the 13-year expenses of electric can be 10% or more over the cost of a gas system.
Gas water heaters provide greater efficiency than electric, and they deliver a hot water recovery rate that is often more than that produced by electric.
If your power goes out for any reason, your electric water heater will be disabled. A gas system, just as it is with a gas-cooking stove, will work even when the lights go out.
In cases where there already exists either electrical wiring or a natural gas line, gas water heaters are commonly slightly less expensive to install and maintain.
Electric water heaters come in a variety of configurations including storage, heat pump and tankless.
Gas water heater types include storage, tankless and condensing.
ASKING THE RIGHT QUESTIONS LEADS TO PURCHASING THE RIGHT SYSTEM
When deciding between gas water heaters and electric, it pays to ask the most important questions. One of the most appropriate being, which water heater is most efficient? While the answer depends on a range of factors, many studies show that gas water heaters tend to give homeowners the most bang for their bucks. However, if you're really concerned with efficiency and budget, it might be more worthwhile to consider all the options available to you including a tankless system.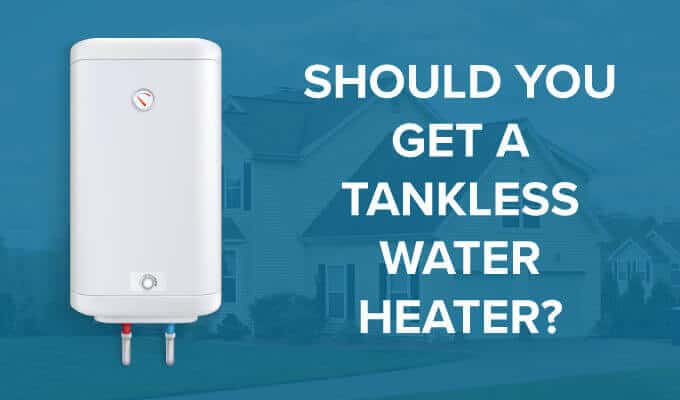 WHAT'S THE DIFFERENCE BETWEEN TANKLESS AND REGULAR WATER HEATERS?
There are many factors that differentiate tank and modern tankless systems. The biggest difference is that a traditional system effectively heats and stores a large amount of hot water in a tank typically situated in your basement, garage or utility storage space. A tankless unit, on the other hand, heats water on demand, reducing the need for storing hot water. You'll only heat the water that you use.
As you might expect, a tankless water heater is the more efficient, cost-saving choice, but it doesn't come without certain initial drawbacks. In most cases, installing a tankless system requires a greater outlay of upfront money. It also requires a higher power output to heat water instantly — much more than you need for a traditional gas water heater. However, if you're able to manage the initial investment and requirements, tankless water heaters are becoming increasingly popular choices. Benefits include:
Greater energy efficiency and reduced operating expenses: It's far more efficient heating up only the water you use rather than doing it in quantity only to produce waste. Over time, the efficiency of a gas tankless water heater will mitigate the greater installation cost.
Smaller space requirement: Without the need for a big, bulky tank to store your available hot water, you reclaim valuable square-footage in your home that can be put to better use. This is especially helpful in smaller, more confined floor plans where the water heater is situated on the same level as living space and storage.
Longer service lifespan: Homeowners continue to recoup the expense of installing a tankless water heater the longer they own it. In fact, a gas-powered tankless heater tends to provide nearly twice the lifespan of a traditional unit.
SHOULD I GET A GAS Tankless water heater OR AN ELECTRIC TANKLESS WATER HEATER?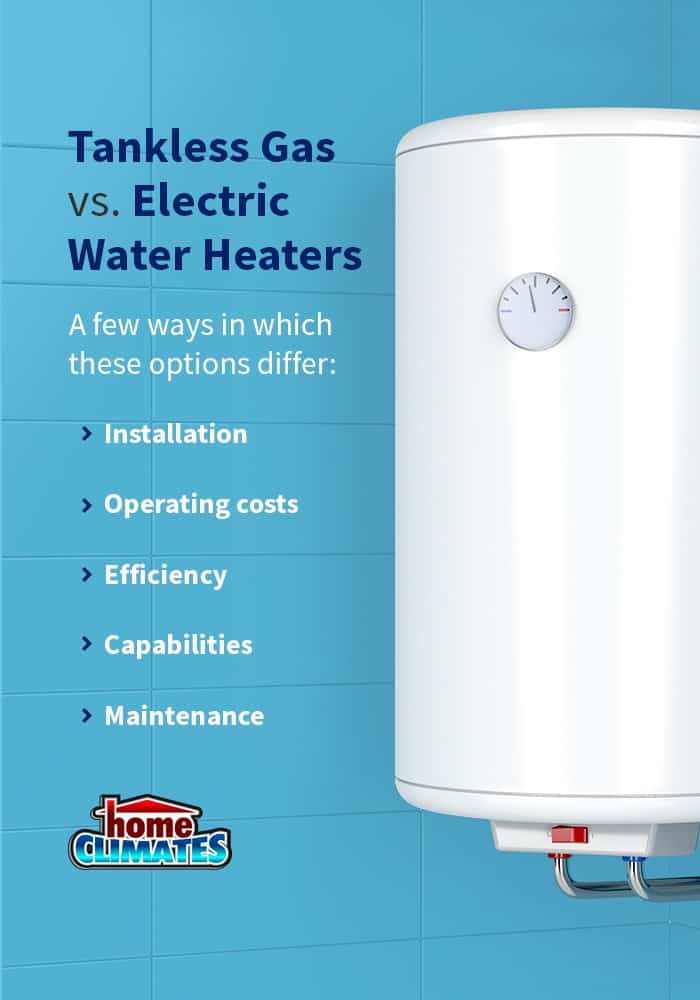 Since tankless water heaters can be powered by both gas and electricity, you're probably wondering whether a gas or electric water heater makes more sense for your family. This depends on many factors including how your home is currently hooked up, the size of your household and the cost of energy in your area.
While an electric tankless unit typically can only provide enough water for a small group of people and will temporarily run cold under heavy usage, a new gas-fired unit heats a virtually limitless supply of hot water on demand. While the tankless system is a cost-effective, long-term upgrade when compared to a regular water tank, a tankless gas water heater is even more efficient than the electric alternative.
CONTACT HOME CLIMATES TO LEARN MORE ABOUT TANKLESS GAS WATER HEATER INSTALLATION
If you're wondering if the time is right to install a gas tankless water heater in Lancaster, Elizabethtown, Harrisburg, Hershey, Lititz, Mount Joy and areas beyond, contact us today. We offer low flat rate pricing, reliable service, one-on-one system guidance and multiple financing options to fit your budget. Our knowledgeable representatives will be happy to answer your questions and help you identify the hot water heater system that makes the most sense for your residence.
We proudly offer water heater services in Lancaster PA, Elizabethtown, Hershey, Harrisburg, Mount Joy and Surrounding areas.