Toilet Replacement and Repair in Elizabethtown & Central PA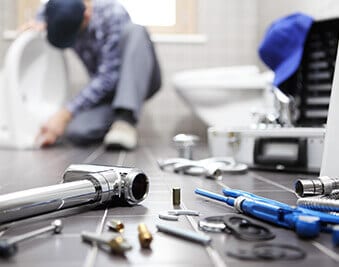 If you're searching for a professional source for toilet repair and installation in Elizabethtown or across Central PA, Home Climates has you covered. Our local plumbers are experts in servicing all residential equipment. We'll quickly and accurately diagnose the trouble areas, and recommend a replacement or repair that represents the most effective solution.
When it comes to reliable toilet repair from Elizabethtown, PA to Lancaster and throughout the region, Home Climates is the source you can rely on. We offer flat rate, upfront pricing and superior quality service. Whether we repair your leaking toilet or provide a replacement toilet installation, your satisfaction is guaranteed.
PRIMARY RISKS OF A BROKEN OR LEAKING TOILET
For most homeowners, toilet replacement isn't typically a top concern. However, a broken, malfunctioning or leaking toilet can cause major safety hazards and damages to your home.
The following are some of the primary risks that can be averted with Home Climates toilet repair:
Spiking utility bills due to water loss and inefficient flushing
Cracked tank or base resulting in flooding conditions
Water damage that leads to flooding and mold in floors, drywall and insulation
Presence of toxic gas and sewage backup causing unsanitary, possibly dangerous living environment
Toilet that topples over or becomes dislodged resulting in potential injury
Higher insurance rates due to expensive water damage claims


SIGNS THAT YOU NEED A TOILET REPAIR
The more aware you are of the signs, the better position you're in to save time and money. Watch for the following warning signs that may lead to unhealthy conditions and costly repairs:
There are visible cracks in the porcelain tank or bowl.
You can hear the water running long after you flush.
You're experiencing reduced flow and incomplete flushes.
You notice a slow leak when flushing.
The toilet moves or rocks at its foundation.
It's an inefficient older model.
You notice the presence of odors, stains or discoloration.
For the best service and fair pricing on toilet repairs in Mount Joy, Harrisburg and areas beyond, contact the professional plumbers at Home Climates today. Fill out our "Request a Repair" form for a free estimate today!