Plumbing Inspections and Water Leak Detection in Elizabethtown & The Surrounding Areas
Making sure your house is working under full operable conditions goes further than what you see on the surface. Plumbing inspections should include more than just determining if there is a visible water leak in your residence. At Home Climates, we take the job of water leak detection seriously to ensure your home is safe and clean.
Residing in Elizabethtown, PA, Home Climates will send experienced plumbers to your residence across Central PA to find leaks and solve the issue. If you're looking for over-the-top customer service at a fair upfront price, reach out to us today for leak detection and plumbing services.
Elizabethtown, PA Water Leak Detection Services: Common Signs of a Water Leak
Of course, not everyone remembers to be proactive about water leak detection. If you suspect your home has a problem, multiple warning signs can confirm your suspicion. These signs include:
A sudden spike in your water bill
A noticeable drop in water pressure
Running or dripping at night when no one else is using the water
Wet spots or discolored areas, particularly on the floor near sinks, faucets and other fixtures
A musty smell, wet drywall or other signs of mold
Types of Water Leaks and How to Repair Them
Water leaks can spring up anywhere inside and outside your home, from a toilet supply line to a burst underground pipe. It's important that you know how to find a water leak in your home and repair the most common types, including:
Toilets: Leaky toilet flappers can seep water down the drain and cost you hundreds of dollars each year. To repair the leak, you can replace an eroded toilet flapper for around $12.
Underground irrigation: Pipe or valve failure in your irrigation system can be extremely costly and difficult to detect. Work with a trusted service professional to check your irrigation lines and catch problems early.
Burst pipes in walls: Pipes in your walls, floors, ceilings, basements and crawl spaces contain hundreds of joints and connections that could fail and cause an expensive leak. Once the faulty connection is found, it can be repaired and reinforced to prevent future leaks.
Water heaters: Your water heater should be maintained on a regular basis. Check for corrosion and other problems that can create catastrophic leaks in your basement.
Fixing a plumbing leak can sometimes be as simple as tightening a loose connection. If it's an issue you can pinpoint and identify, fixing the leak on your own is an easy and quick solution.
However, some issues are complex and may require major repairs. For this reason, it's important to have a plumber you can trust. At Home Climates, we offer upfront flat-rate pricing. We specialize in surprise-free billing and competitive pricing, even for large or rush jobs.
Preventing Water Leaks and Protecting Your Home From Water Leak Damage
Most homeowners will experience some type of water leak, but it's impossible to know whether the next leak in your home will cause catastrophic damage or simply drive up your water bills.
Catastrophic water leaks are more common than you might think. Every year, one in 55 homes experiences a catastrophic leak that results in an average of $8,000 in damage. Costly but not catastrophic water leaks are also very common. In fact, an average home wastes 17 gallons every day from leaks in its plumbing system, which increases utility bills.
It's likely that every homeowner will suffer a water leak or water damage as a result of a leak. That's why it's crucial to protect yourself from the unexpected through proactive water leak detection.
Water Leak Detection App Setup and Installation: Flo by Moen™
Imagine the peace of mind you could enjoy by combining the highest quality service from Home Climates with Moen's revolutionary products and services.
Flo by Moen™ is an app that provides an all-in-one security system for your plumbing. The app helps detect even the smallest vulnerabilities and gives you complete control over your system from any smart device. You can even shut off your water remotely rather than paying thousands to repair damage from a leak that occurred while you were away.
Home Climates is proud to partner with the new Flo app to help customers in Central Pennsylvania save time and costs through water leak detection services. With Moen's device in place to find water leaks, you can avoid small and large leaks and ensure your family never has to vacate your home due to damage. You can finally have peace of mind for as long as you live in the house, which means years of preventing water damage, saving on utility bills and being proactive about water leak detection in your home.
Our team at Home Climates will gladly set up Flo by Moen™ in your home. Our mission is to provide customers in Harrisburg, Mount Joy, Hershey, Elizabethtown, Lancaster and nearby areas with over-the-top service at a fair price.
Interested in learning more about the Flo app or scheduling a free in-home consultation? Give our water leak experts a call at 717-689-4151 or contact us online today.
What's Involved in a Plumbing Inspection?
Plumbing inspections can occur in a variety of settings. Perhaps you're moving into a new home and want the entire house checked for full operation. Maybe you've been experiencing issues only in your basement and need a specific fixture analyzed. Or you might be a business owner and need your commercial space, such as a restaurant or hotel, checked with a commercial plumbing inspection.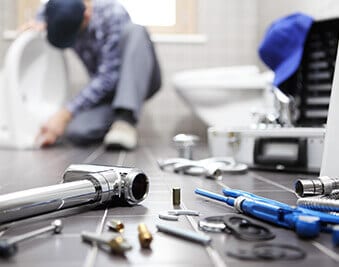 No matter where you are and what you need, we can get the job done right. Below are the various services we provide and the items we check during a routine plumbing inspection:
Water pressure testing — Adequate water pressure is a small but important part of your home comfort. Home Climates can provide water pressure testing as part of a whole-home plumbing inspection. We can also make sure your system is working as efficiently as possible and delivering the pressure you need without risking flooding.
Water quality testing — Water quality issues cause a number of problems in the home, from soap that doesn't lather properly to scale developing in your water heater. A chemical testing for hardness, chlorine, TDS (total dissolved solids), pH and iron ensures the mineral content of your water is where it should be.
Dye testing — Dye testing can be useful when identifying the source of toilet leaks and other home plumbing issues. If you suspect a leak, we can make a dye test part of your next home plumbing inspection.
Sump pump inspection — Your sump pump doesn't require much in the way of regular maintenance beyond a visual inspection. If your home is equipped with a sump pump, we'll make sure it continues to provide reliable, trouble-free service at all times.
Water heater maintenance — Routine water heater maintenance is important to extend the lifespan of your water heater. Your water heater should be flushed every 1-2 years to clear out sediment build up in the tank. We can inspect and recommend the proper maintenance for your tank as areas with hard water should be flushed more frequently.
Shut-off identification — It's important that every homeowner knows where their master shut-off valve is in the event of an emergency. If you don't, we'll locate it and show you how to turn it off should you ever experience a burst pipe or flood.
As you can see, the inspection process is extremely thorough. Our team will spend an adequate amount of time ensuring no leaks are detected. In the meantime, we'll make sure we don't destroy or ruin your home or workspace as we make our way around your drainage and pipelines.
When to Conduct a Plumbing Inspection
The most critical time for a plumbing inspection is during the home-buying process. Your realtor might gloss over the outside appearance of the pipes and drains, but often, the most pressing issues lie undetected from a simple glance. Hiring a plumber to make sure your new place is functional and up to code will save you in the transitional phase.
After you purchase your home, you'll want to continue inspecting the plumbing about once a year. Through regular annual inspections, you can take proactive and preventive measures to stop issues before they begin or before they start to take a significant toll on your plumbing.
Sometimes, you'll face small leaks and the occasional water spot growing along the ceiling or floor. These issues can often be easily fixed, but if you notice leaks occurring on a regular basis or the water spot growing at a rapid pace, finding a solution will become more urgent. An inspection will identify the source of the problem and prompt the proper fix and remedy.
Also, if you're hearing various sounds radiating from your pipes and bath fixtures, a plumbing inspection wouldn't hurt. Something could be wrong with the pipes, whether that's corrosion or blockage, and hiring an inspector to find the cause will cut back on potential long-term damage.
Plumbing Plans
| Plan Details | Sapphire | Opal |
| --- | --- | --- |
| Priority Scheduling | x | x |
| Minimum 15% Discount on ALL Repairs | x | x |
| Annual Plumbing and HVAC Inspection | x | x |
| 5 year Parts and Labor Warranty on Repairs | x | x |
| Water Test (hardness, chlorine, iron, pH, TDS) | x | x |
| Waived Service Charge | x | x |
| 12-Hour Guaranteed Service | x | |
| Water Softener Tune Up | x | |
| Free Drain Camera Inspection | x | |
| $300 Repair credit per incident ($1,200 annually) | x | |
| $200 Rebate on New System Replacement | x | |
Call Home Climates for Your Plumbing Inspection in the Elizabethtown, PA Area
For complex or even minor leak detection services, Home Climates has a plumber ready for you. Contact us today to schedule your plumbing inspection or plumbing repair. Homeowners and businesses alike in the Elizabethtown, Harrisburg, Hershey and Lititz areas and across Central PA are encouraged to reach out to us for quality you can trust.